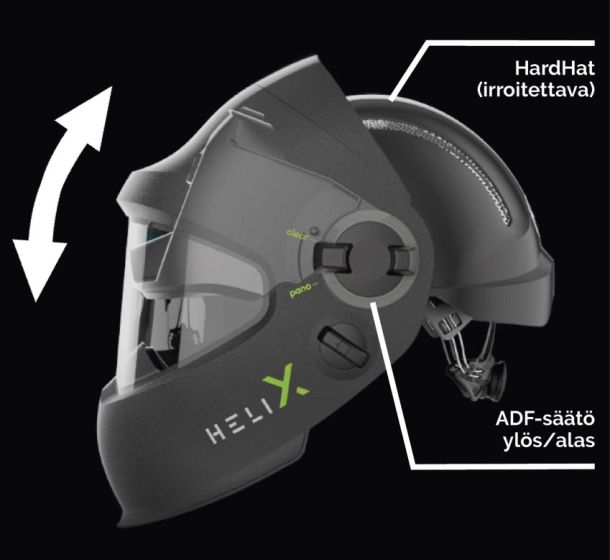 Optrel Helix Clt
---
There's work that needs to be done.
And some workplaces are just rougher than others. Conditions can be challenging – so we made it simple: You do the heavy work – we make it feel easy. With the all new Optrel Helix -
A helmet made for everyone who doesn't like to compromise. Full protection and full versatility – in its lightest form. With our innovative slide up technology, you can adjust to the realities of your job within seconds. The Helix remains incomparably light and perfectly balanced - eliminating the pain causing effects of ordinary flip up helmets. No more tunnel view – due to our "Nose Cutout Technology". Have everything in sight while working – with a field of view six times larger compared to other products.
All that makes the Helix the perfect companion for welding, grinding and cutting in heavy steel construction. For all who know what real heat feels like - and still want to keep a cool head. Even after hours of work.
Fully compatible with "Swiss Air" – the best solution for, clean, fresh air – without any compromise in terms of mobility and communication. So you can focus on your work – and let us take care of the rest.
The Optrel Helix. Hard work never felt so easy
The helix CLT is ideal for you if you need the practical slide-up function to switch between different tasks and also want a large field of vision with an extremely bright and true-color view when welding.
Features
Crystal Lens Technology 2.0

Slide up

Anti-glare

Removable hardhat

Twilight function

Sensitivity control

True color vision

Warranty extension 2+1 years

Rechargeable battery

Opening delay

Approved for overhead welding
Areas of application
Stick Welding (SMAW)

MIG/MAG (Metal Inert Gas Welding, GMAW)

GMAW high performance welding

Cored wire welding

TIG welding (TIG, GTAW)

Plasma welding

Plasma cutting

Gas welding

Grinding mode
With the Helix, Optrel offers a welding helmet for work under the most difficult conditions. A slide-up helmet with internal ADF that has all the technical features of an optrel helmet:
Panorama XXL field of view
ShadeTronic
Fadetronic
Rechargeable battery unit with charging via welding arc
5-point multi-detection sensor technology