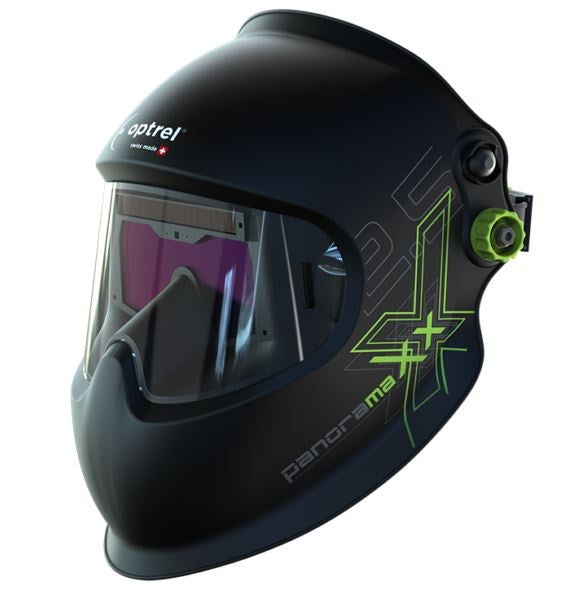 Optrel Panoramaxx
---
Optrel Panoramaxx has panorama view in connection with the 2.5 brightness level - as well as the detailed colour rendering - makes it possible for the welder to experience an entirely new visual dimension.
Fully automated welding mask with extra-large field of vision: the nose cutout floats above the nose to position the auto-darkening filter closer to the welder's eyes.
The Optrel Panoramaxx offers a 6 times larger field of view compared to standard welding helmets. True-Color filter protects at shade levels 2.5/5-12M with Autopilot (automatic shade selection), +/- 2 individual shade-preference adjustment, sensitivity control and opening delay with optional twilight function. It also has grind mode.
Features a high-performance solar cell and a lithium-polymer energy pack that can be recharged with a USB- cable, the Panoramaxx is fast becoming the energy-independent, maintenance-free welding helmet for professional users. Application ranges: Any electric arc welding process, Electrode Welding (Stick Welding, SMAW) / MIG / MAG (GMAW) / GMAW, High melting rate process / Flux Cored, Wire Welding / TIG welding (GTAW) / Plasma Arc Welding / Plasmacutting & Oxy-gas Welding.
Weight 550g