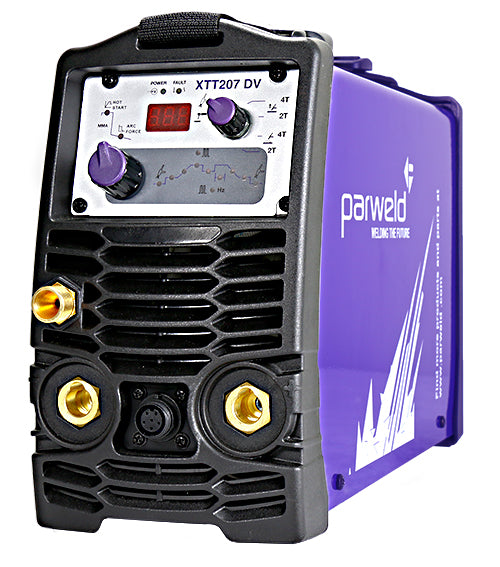 Parweld XTT 207DV DC Pulse TIG Welding Machine
---
The Parweld XTT 207DV DC Pulse TIG Welding Machine is a versatile and compact TIG welding equipment suitable for various industries such as light industrial manufacturing, maintenance, repair, agriculture, and automotive.
Package includes:
WP-9FX/4m TIG torch with remote control
3m Ground cable
Gas hose with quick connector
The TIG torch's remote control allows adjusting the welding current during the welding process.
The XTT 207DV is a new DC pulse inverter, lightweight, portable, and compact TIG welding machine, offering adjustable TIG welding features such as pre-gas, start current, pause current, end current, post-gas, pulse frequency, 2T/4T logic, and more.
The machine comes with a flexible and high-quality Parweld WP-9fx TIG torch with remote control. It can also function as a stick welder, but a separate stick welding cable needs to be purchased.
Specifications:
Output Current: 5-200 A DC
Input Voltage: 230V 1P
Input Current Max: 32/16A
Duty Cycle: 200A @ 35%
Up Slope Function: 0-5s
Down Slope Function: 0-5s
Pre Flow Function: 0-1s
Post Flow Function: 3-10s
Minimum Fuse Rating: 16A
KVA: 3.6
Enclosure Protection: IP23S
Dimensions: 376 x 130 x 240 mm
Weight: 8.0 kg
The machine comes with a 2-year warranty.