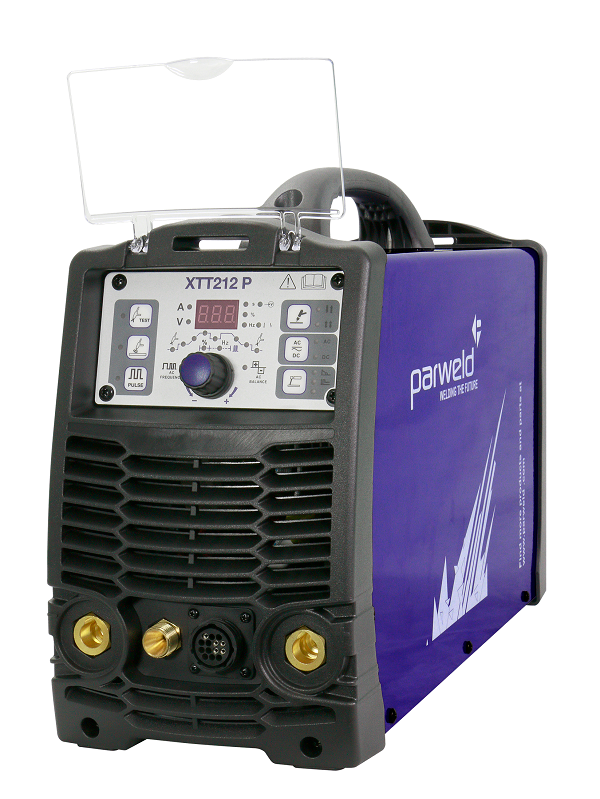 Parweld XTT 212P Pulse Tig Welding Machine AC/DC
---
The Parweld XTT 212P is an AC/DC TIG welding machine with pulse capabilities, offering an excellent price-to-quality ratio. It is suitable for various industries, including light industrial manufacturing, maintenance, repair, agriculture, and thin sheet metal fabrication.
The machine comes with a flexible and high-quality WP-17fx/4m TIG torch with remote control and a foot pedal to assist in aluminum welding. The package includes a ground cable and a gas hose.
The XTT 212P can be used for both AC and DC welding, making it versatile for welding a wide range of materials. The machine's pulse function enhances productivity and reduces heat input. Most steels can be welded quickly using the pulse function in DC mode, while the AC mode allows for welding aluminum and magnesium.
The adjustable pulse frequency and square wave maximize welding energy and offer high welding speed in combination with pulse welding.
Specifications:
Output Current: 5-200 A DC
Input Voltage: 230V 1P
Input Current Max: 32/16A
Duty Cycle: 200A @ 35%
Up Slope Function: 0-5s
Down Slope Function: 0-5s
Pre Flow Function: 0-1s
Post Flow Function: 3-10s
Minimum Fuse Rating: 16A
KVA: 3.6
Enclosure Protection: IP23S
Dimensions: 376 x 130 x 240 mm
Weight: 8.0 kg
The machine comes with a 2-year warranty.